The purpose of the Cama-i Dance Festival is to host three days of dancing and singing, sponsor an arts and crafts venue, and host a community potluck to share good food and tell stories. The festival brings folks together from the Yukon-Kuskokwim delta and dance groups from across Alaska and international communities in the common language of dance and song.
Purchase tickets for Cama-i Dance 2022 using the link below!
https://bethelartscouncil.networkforgood.com/events/37756-camai-dance-2022
Visit www.camai.org for more information, pictures and schedules.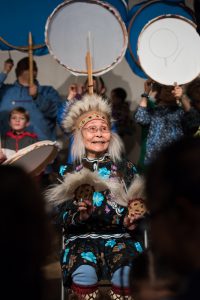 Cama-i photos on our site are generously provided by Katie Basile. www.katiebasile.com